Our
Community

Flava
When we open a Chicken Xpress in a community, we are strive to bring our Flava to the very heart of the area through sponsorships, events and upliftment initiatives. We firmly believe in thinking globally, but acting locally. We encourage all franchisees to source staff members from the communities around their stores and work to nurture each individual staff member to the best of their abilities.
The
Three

P's

of

Chicken

Express
P

eople

We are making it our mission to grow Flava-ful people in each and every Chicken Xpress community – from our Franchisees, to staff members, customers and the South African public as a whole. Our community outreach programmes are important to us, as they enable us to not only grow, but also give back to each Chicken Xpress Community.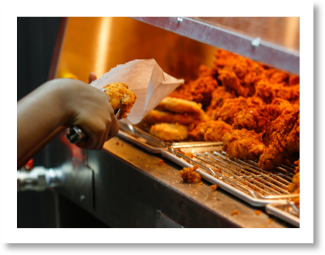 P

roduct

You don't grow an extraordinary business without constantly keeping innovation at the forefront. That's why we make a point of expanding our menu with each new store that opens. We want the people to experience the core Flavas that we've poured our heart and soul into, while also delighting them with a wide range of choices.
P

lanet

As a community driven business, we see it as our duty to work with each and every community in which we open a store to encourage a responsible use of resources, as well as facilitate awareness around recycling. When you start at the ground level, and everyone does their part, then we can really make amazing strides towards protecting our earth.